We are open for High Tea (Friday - Sundays) & Dinner (Friday & Saturdays).
We also accommodate private group bookings for High Tea, Lunch and Dinner.
5-course Chef selection tasting menu
Bar opens from 6pm, with dinner from 7pm, Fridays & Saturdays
$120 per head
Click here to view a Sample Dinner Menu
Please note we do not offer an a-la-carte menu due to our intimate size.
High Tea
High Tea is run on Fridays, Saturdays and Sundays between 2pm and 4pm
$69 per head
Group High Tea
Available by prior arrangement
Please note reservations are essential and open 60 days in advance.
Please note, we only accommodate children 10 years & over due to the comfort of other guests.
Important Notes
RESTAURANT RESERVATIONS
Campbell Point House Restaurant accepts online bookings or bookings via email only.
Our maximum party size is strictly ten (10) guests. If you have a larger group, please email us to discuss packages and options.
Please note, we only accommodate children 10 years & over due to the comfort of other guests
Each guest in the party is required to partake in our 5 course chef selection degustation menu option ($120 per head).
Beverages are charged on consumption and there is strictly no BYO.
Dinner reservations begin between 6:30PM - 7.30PM and we only do one sitting per evening. You are welcome to arrive from 6pm and enjoy a pre-dinner drink at our bar.
High Tea is available on select days. Please arrive at your booked time, early arrivals are not possible as we do need to manage all arrivals due to patron capacity restrictions. High Tea sessions run for 2 hours. High Tea booking access is limited to the main hotel building and immediate grounds, access to other parts of the property, including the pool and day spa is limited to staying guests.
SEATING
Dining takes place either in the dining room, conservatory / bar area or in our courtyard or veranda areas depending on group sizes, weather. Due to the changing configuration of reservation numbers, we are unable to confirm or guarantee your placement within the restaurant.
CANCELLATION POLICY
Due to our intimate size, we require guests to secure their booking with a credit card. If you are unable to attend your reservation because you are isolating due to testing positive for COVID-19 we are able to re-schedule your booking without penalty.
At least 7 days notice of cancellation, reduction in numbers or change of date is required in order to avoid a cancellation fee.
If less than 7 days notice is given and if we are unable to fill your seats the following cancellation fees apply (includes a reduction in numbers and change of date);
100% menu price within 72 hours

50% menu price within 3-7

days
DIETARY REQUIREMENTS
We are very happy to accommodate a variety of dietary requirements with advance notice. Please ensure you include ALL dietaries on booking or advise in writing at least 3 days in advance of your booking.
In the event your dietary requirements are quite restrictive, please contact us to discuss, as our intimate size can limit our flexibility in certain circumstances.
OTHER POLICIES
Menu's are a sample only and subject to change without notice .
We only accommodate Children 10 years & over for dinner and high tea.
An access code to the property will be text to you the morning of your booking so please ensure your contact details are correct
Please note there is a 20% surcharge applicable on all Victorian Public Holidays.
Please note Entertainment Book discounts are not available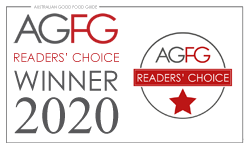 An experience at Campbell Point House is the perfect gift!